Vitiligo Treatment in South Delhi
Vitiligo is a skin condition that causes white patches of skin to appear on various parts of the face and body. The disorder can also cause hair to lose its pigment and turn white. The condition can affect people of any race but is more noticeable in people with darker skin and hair.
General vitiligo is believed to be an autoimmune condition, which means the immune system mistakenly attacks pigment-producing cells (melanocytes). The condition affects up to 2 percent of the world's population. Vitiligo is not contagious.
The condition affects up to 2 percent of the world's population. Vitiligo is not contagious.
Treatment of Vitiligo or White Patches at Royal Lush Skin Clinic:
At Royal Lush we use the most effective treatment for vitiligo in the world called Melanocyte Transplantation
Melanocyte transplantation, also known as Non-cultured Melanocyte-Keratinocyte Transplantation Procedure (MKTP) is the latest modification in the surgical management of Vitiligo/Leucoderma. It involves separating skin cells from normal skin and transplanting on white spots as a cell suspension after removal of the upper layer of skin superficially. It can be performed in 1 to 3 hours as a day-care procedure.
In this treatment, largely affected lesions can be treated. The cosmetic results achieved are superior to other surgical methods such as skin grafting and punch grafting. Moreover, difficult-to-treat areas like bony surface, areola, genitals, and knuckles can also be treated with excellent results.
Features of Melanocyte Transplantation technique:
Regenerative Therapy for Pigment restoration in non-progressive Vitiligo.
Autologous-grafting- Using Patients own melanocytes for transplantation.
Regenerative Melanocyte Suspension (RMS) containing activated & viable Melanocytes.
Safe, Efficacious & convenient single-procedure treatment over conventional grafting methods.
Simple Procedure – Performed in the clinic, takes 30 min of Surgeons actual time.
Enhanced Healing, after resurfacing procedures.
Repigmentation should begin to appear within 4 weeks after the procedure.
Non-pyrogenic, non-toxic & gamma rays sterilized kit.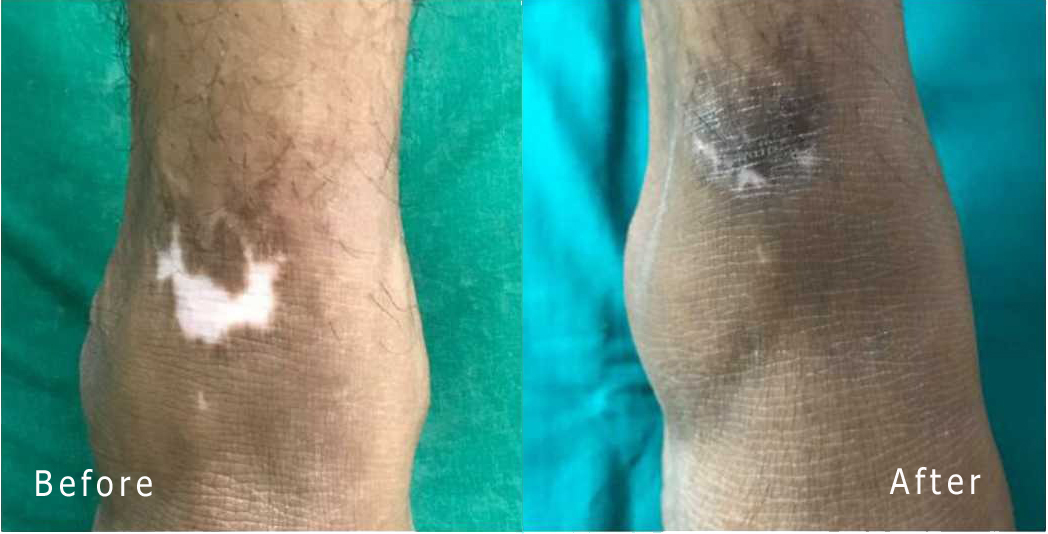 Disclaimer: Result may vary from case to case. Terms and Conditions* Apply