Thread Lift Treatment In Delhi - Dr Syed Hussain
Aging is an inevitable part of life whose signs appear more prominently on the skin. Over time the skin, especially the facial skin, loses its elasticity and tightness. As a consequence, wrinkles form, and the skin begins to droop. This leads to changes in the facial shape structure and makes one appear old. At Royal Lush clinic, a "thread lift" technique makes aging reversible. It is a minimally invasive treatment where Dr. Syed tightens the skin using surgical fibers (threads, hence the name thread lift). This procedure is quick, painless, and inexpensive. Dr. Syed employs cutting-edge technology to provide the best thread lift treatment in Delhi at Royal Lush that gives you confidence and a well-defined look free of wrinkled and saggy skin. Several types of thread lifts are available at the Royal Lush clinic, such as bidirectional thread lift, multidirectional thread lift, twisted thread lift, spring thread lift, etc.
Who is the right candidate for a thread lift?
If you belong to any one of the following, you are the right candidate for a thread lift.
You are less than 55 years of age.

Sagging skin concerns you, and you want to make it look better.

If your face shows signs of early ageing.

There is laxity of skin in the mid-face, and it is obvious.

Fine lines and wrinkles have started to appear around the nose, mouth, and chin.

You are not interested in a surgical facelift and are looking for an alternative.

The skin of your face is not extremely loose, or you are too thin.

You have an ideal weight that is optimum to carry out the procedure.
Benefits of Thread Lift
There are far too many benefits of a thread lift. Some of the primary benefits of thread lift treatment in Delhi are as follows:
Unlike facelifts, where results often take weeks or months to show, patients love that thread lift gives instant results. Once the procedure is done, you will instantly notice the firmness in your skin and find yourself more youthful-looking. You'll have a tighter, more youthful-looking face as soon as the operation is over. Under the skin, a dissolvable thread is inserted and strategically placed. The face is then lifted by pulling the thread upwards.
Dr. Syed's thread lift treatment in Delhi does not require usage of invasive equipment, making it a minimally invasive surgery. Because it is less surgical, there is no risk of scarring thus thread lift gives you tighter skin without the possibility of scarring.
Unlike conventional plastic surgeries, where recovery time is several weeks to months, thread lifts have comparatively less to no downtime. You can resume your regular activities and work the very same day you get a thread lift.
When comparing the cost of a thread lift to the cost of other skin sculpting treatments, the cost of a thread lift is fairly low, making it an affordable treatment for all.
Beauty comes from confidence and if someone is not happy in their skin, Dr. Syed who aims to make people feel beautiful from within. Many people are unhappy with their wrinkled skin, and a thread lift performed by a professional can be life-changing, boosting one's confidence.
Quick can be combined with other anti-aging procedures
Thread lift treatment in Delhi can be paired with other anti-aging procedures such as dermal fillers, peels, and other procedures at Dr. Syed's clinic for a twofold benefit. This provides a comprehensive method for countering the signs of aging by enhancing the appearance of wrinkled and droopy skin along with dark spots.
Despite the fact, a thread lift gives an instant result and is a relatively simple surgery, the results might last up to a year or longer. Thus, one can consider a thread lift as a long-term investment in the skin.
Tighter and youthful-looking skin
Although thread lifts provide instant results it also boosts natural collagen production that results in youthful and firm skin. Furthermore, the threads used in the thread lift procedure pull your skin, removing wrinkles and creases and giving you a smoother overall appearance.
Safe and compatible with the skin
The threads used in the procedure of thread-lift are of medical grade and biodegradable, which is safe for your skin. It gets absorbed in your skin thereby, making it compatible with it and also giving long-lasting benefits.
Procedure of thread lift
Thread lift is a cosmetic procedure used to tighten and invigorate your skin.

A thread lift instantly gives a youthful look and a refreshed appearance.

This procedure uses polypropylene threads that are inserted along a set and marked path.

The threads used in the procedure are bio-friendly and absorbable.

The skin starts to produce new collagen and grows around it.
This is how a thread lift is done:
First, your doctor will disinfect your face using alcohol.

A local anaesthetic is injected under your skin for a comfortable experience.

With the help of a small incision on the skin, a cannula is inserted into the skin.

The thread is secured, and the cannula is pulled out.

After ensuring that the thread is in place, the thread is cut off.
Thread lift treatment in Delhi is available with Dr. Syed.
How Surgical Thread Lift is different than a non-surgical thread lift?
With age, there is a loss of collagen in the skin that causes a loss of volume and the skin doesn't spring back as much.
A non-surgical thread lift is a technique that tightens loose skin as well as stimulates the development of new collagen and it's the best of both worlds.
A surgical thread lift lifts the skin, volumizes the hollow areas, and contours the facial features along with stimulating collagen and elastin production to restore the aesthetic appearance of the face.
The best thread lift treatment in delhi is available with Dr Syed
How much does a thread lift cost in India?
A thread lift is a non-surgical alternative to a facelift that is performed on specific areas of the face. This procedure gives a firmer and younger-looking face and neck. Depending on various factors, the cost of a thread lift in Delhi can range from Rs 27000 to about 97500. Thread lift treatment in Delhi is available at Dr. Syed's Royal Lush skin clinic
Is a thread lift worth it?
A thread lift is a great personal choice if you are looking for a non-surgical facelift procedure.
It is a relatively quick procedure and offers great results without surgery.
It helps improve the jawline and evens fine lines and wrinkles.
A thread lift improves the taut and texture of the face and gives you smoother-looking skin.
It has very minimal downtime, and you will be able to see the results much faster.
A thread lift stimulates the body's natural collagen production and boosts the appearance of your skin.
It helps you get tighter-looking skin and avoid sagging of the skin around the face and the neck.
Care After Thread Lift Procedure
Apply a cool compress to relieve pain or discomfort
Continue taking the prescribed medication
Do not lay down either on your back or on your stomach for 4 hours after the procedure
Avoid hot showers for a week
Refrain from strenuous activity for about four weeks
Stay away from makeup for about two weeks
Avoid any dental procedures for about three to four weeks
Can thread lifts be permanent?
Facelifts are not permanent procedures and may need to be repeated at certain intervals to maintain the results.
The thread lift results last about one to three years, and maintenance sessions will be required.
Our bodies change as we age, and so does the skin, so to maintain lasting results, timely sessions are important.
Are thread lifts a good idea?
Thread lifts are a great idea because:
The procedure is painless and gives you results almost instantly
If your health or medical condition is a contraindication for surgery, thread lifts are a great choice for you
With time, you can observe how your skin changes with age and choose the kind of procedures that suit you
It is much less expensive than a surgical procedure, and budget-friendly options are available.
The results of the lift are instantly visible with almost no downtime.
Dr. Syed is your best choice for thread lift treatment in Delhi.
What are the disadvantages of thread lift?
Just as with any other procedure, there is a very minimal risk of infection.
A slight degree of bruising and temporary discomfort may be experienced.
A thread lift works great if your skin shows mild to moderate laxity only.
The placement of the threads is very critical to getting the desired results.
Getting the procedure with the right dermatologist is of prime importance, and Dr. Syed is the top dermatologist for thread lift treatment in Delhi.
Why Choose Dr. Syed for Thread Lift?
Dr. Syed's clinic is a premier state-of-the-art skin and hair clinic located in Delhi.

We specialize in all kinds of dermatological services with world-class quality.

Dr. Syed is highly trained and the first certified dermatologist in India to perform thread lift.

All our services are specially curated to provide long-lasting and natural-looking results.

Dr. Syed and his team are fervently committed to providing the best care.

Patient satisfaction is always our top priority, and we maintain the highest standards for ethics.
If you are ready to love yourself again in the mirror, thread lift treatment in Delhi is available with Dr. Syed.
FAQs
You are a good candidate for thread lift if you are experiencing early signs of ageing on the face, skin shows visible signs of ageing, skin on the face offers a certain degree of laxity, fine lines and wrinkles have started to become visible, the skin around the eyebrows, cheeks, and neck have started to sag, you are somewhere between 35 and 55 years of age, you are as close to your ideal weight as possible, your dermatologist has determined that your physical health is suited for you to get the procedure. Thread lift treatment in Delhi is available under the expert hands of Dr. Syed at his Royal Lush Skin clinic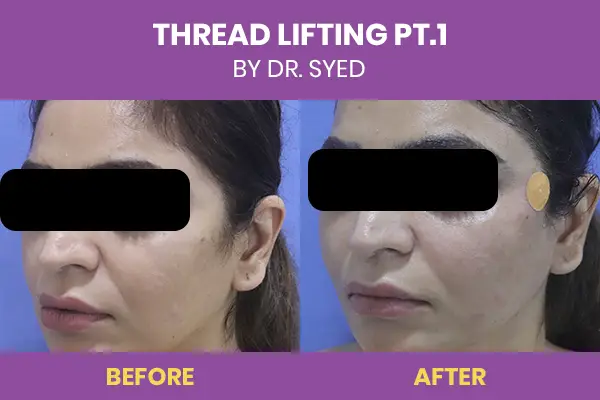 Videos