Korean Melasma Peel
Introduction
The Korean Melasma Peel emerges as a beacon of innovation and excellence in the pursuit of radiant and flawless skin. This cutting-edge skincare product breaks down barriers by utilizing the synergistic potency of L-Ascorbic Acid, plant stem cells, and active bleaching ingredients. The Korean Melasma Peel introduces a revolutionary approach to skincare by strategically combining Glycolic Acid (GA) and Alpha Hydroxy Acids (AHAs), which is further amplified by the infusion of Oxygen. This results in unparalleled luminosity and rejuvenation.
The Synergy of GA and AHAs: Elevated Penetration Dynamics
Alpha Hydroxy Acids and Glycolic Acid are well known for their ability to exfoliate skin. By synergistically enhancing their effects, the Korean Melasma Peel, however, elevates their role. The skin's capacity to absorb and assimilate these essential ingredients is significantly improved by combining the powerful exfoliation properties of GA and AHAs with the targeted delivery of L-Ascorbic Acid, plant stem cells, and active bleaching agents.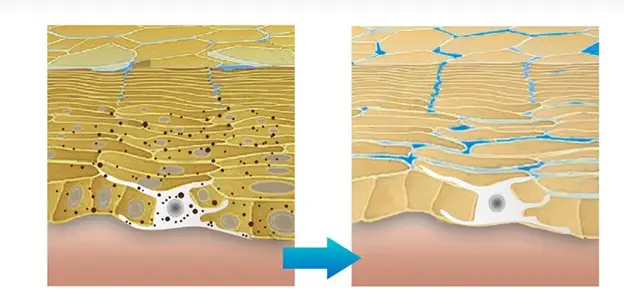 Oxygen Infusion: Catalyzing the Metamorphosis
On the journey of transformation for the Korean Melasma Peel, enter Oxygen, a silent but significant partner. By acting as an accelerator and accelerating the absorption process, oxygen infusion is introduced. An even more thorough and profound metamorphosis is encouraged by this strategic integration, which redefines the way the active ingredients interact with the skin.
A Radiant Whitening Revelation: The Vital C Peel Plus O2 Mechanism
The symbiotic harmony between the procedure and oxygen infusion is at the core of the Korean Melasma Peel's effectiveness. This engaging interaction reconceives skin brightening. Facilitating an intricate yet non-invasive peeling process, the treatment gently eradicates lackluster and damaged skin layers, ushering forth a renewed luminosity that dazzles the beholder.
Simultaneous Assimilation: A Paradigm Shift in Skincare Efficacy
The Korean Melasma Peel's capacity to carry out multiple tasks at once—peeling the skin while coordinating the thorough absorption of active bleaching ingredients—is one of its greatest achievements. This dual-faceted modality revolutionizes skincare efficacy, elevating efficiency and endowing the skin with a smoother, more harmonious complexion that exudes vitality.
Benefits of Korean Melasma Peel
Instant Glowing Skin
The Korean Melasma Peel opens the door to instant luminosity. When its special mix of active ingredients is combined with the exfoliating abilities of GA and AHAs, a radiant glow that captures the eye is revealed. Your complexion is left looking as vibrant as it is alluring thanks to this instant revitalization.
Acne Scars Reduction
With the Korean Melasma Peel, treating acne's aftereffects is simpler. Acne scars are less noticeable thanks to its capacity to penetrate deeply into the skin and its exfoliating effects. This effective treatment gradually improves the texture of the skin, making it smoother and more even.
Dark Spot Reduction
The Korean Melasma Peel is unaffected by dark spots or uneven pigmentation. It diligently targets and minimizes the visibility of dark spots thanks to its precise action and improved absorption dynamics. The result is a complexion that emanates a consistent, radiant tone.
Gallery